SSC has established a diversified international market and overseas clients based on its qualified services, different marketing strategies and lower cost. It provides petroleum engineering services to many foreign oil companies and cross-bound enterprises, and raises the brand awareness. It has 5 major markets in Africa, the Americas, Central Asia, South Asia and Southeast Asia. It is the largest onshore drilling contractor in Saudi Arabia and Kuwait. It is listed in petroleum engineering markets of national oil company of Saudi Arabia, Kuwait and Ecuador with great influence.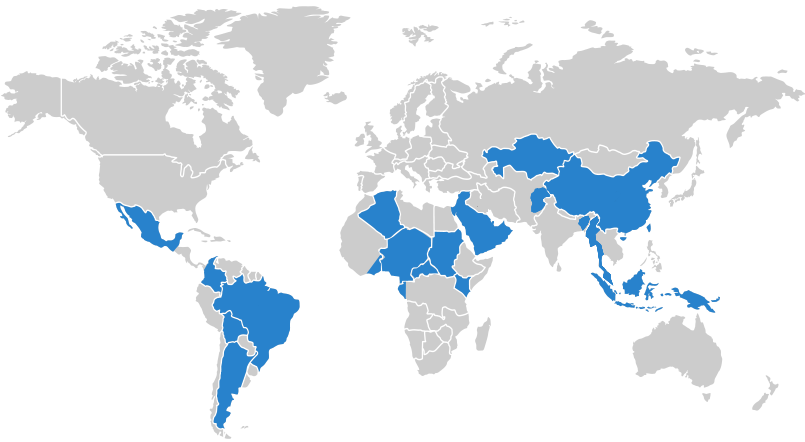 Indonesia

Kazakhstan

Kuwait

Saudi Arabia

The united Arab emirates

Sudan

Kenya

Algeria

Mexico

Ghana

Gabon

Ecuador

Brazil

Bolivia

Argentina

Nigeria

Central African Republic

Myanmar

Pakistan

Bangladesh

Chad
Wellbore Services:

Kuwait: KOC Drilling and Completion Service

Saudi Arabia: Saudi Aramco Drilling and Completion Service

Ecuador: TIPUTINI Drilling and Completion Lumpsum Service

Integrated Oilfield Services:

Mexico: Ebano Integrated Oilfield Service

Petroleum Engineering and Construction:

Indonesia:General contractor of the SES natural gas processing plant

UAE: Oil Tanks Construction Project

Kenya: Assistance Project

Algeria: IN SALA—TAMANRASSET Water Pipeline Project

Ghana: Natural Gas project

Brazil: GASENE Pipeline Project

Saudi Arabia: Dammam Road and Bridges Construction
Geophysics:

Saudi Arabia S62 Project

Algeria: TMS&RFS 3D Data Acquisition Project

Nigeria: Qua Ibo 3D Data Acquisition Project

Central Africa: A-block 2D Data Acquisition Project

Chad: BCO III 3D & 2D Data Acquisition and Interpretation Project

Bolivia: Carohuaicho 2D Seismic Acquisition Project

Ecuador: PACIFPETROL #2 Block 3D Seismic Data Acquisition Project

Bangladesh: ONGC Shallow Water 2D Seismic, Data Acquisition and Processing Project

Myanmar: Petronas Onshore IOR-5&7 Block 3D Seismic Data Acquisition Project

Pakistan: GAMBAT SOUTH 3D Acquisition Project
Partners

35countries
The company has established good strategic cooperative relations with many international oil companies, and the service market has been expanded to 35 countries worldwide.

16.97 Billion USD
By the end of 2021, 339 ongoing projects in Middle East,Africa, Americas, Central Asia and South Asia, with contract value of 16.97 Billion USD.

183 crews
183 overseas crews, nearly 11,000 overseas employees, 61% of whom are foreigners.