On February 9, SSC held its first general meeting of shareholders in V-Continent Beijing since it completed the Reorganization and went public. The meeting passed 12 proposals including renaming the Stock and electing directors and supervisors. Jiao Fangzheng, Yuan Zhengwen, Zhu Ping, Zhou Shiliang, Li Lianwu, Jiang Bo, Huang Yinghao and Zhang Huaqiao were elected as directors of the Board; and Wang Chunjiang, Zhang Jixing, Zou Huiping, Wen Dongfen, Zhang Qin, Cong Peixin, Xu Weihua and Du Guangyi were elected as supervisors. The following Board of Directors' meeting elected Jiao Fangzheng as Chairman of the Board, Yuan Zhengwen and Zhu Ping as Vice Chairman of the Board, and Wang Chunjiang as Chairman of the Board of Supervisors. The Board of Directors appointed Zhu Ping as President, Zhou Shiliang, Geng Xianliang, Yong Ziqiang, Zhang Yongjie, Liu Rushan, Zuo Yaojiu, Zong Tie and Zhao Diandong as Vice President, Wang Hongchen as Chief Accountant, Li Honghai as Secretary of the Board of Directors, and Wu Siwei as Representative of Securities Affairs.
In his address to the meeting, Sinopec Group Vice President and SSC Chairman Jiao Fangzheng said that SSC would continue to pursue its strategy to make the company professional, market-oriented, specialized, high-end and international. According to Chairman Jiao, SSC would continue to expand its business from onshore to offshore, from conventional to unconventional, from domestic to overseas, and from single engineering project to integrated reservoir service. It would strengthen management, deepen reform, promote transformative development, make itself a world class comprehensive and integrated oil service company and bring good returns to shareholders.
On May 27, 2014, Sinopec Group started to reorganize its material assets so that SSC would get listed in the stock market on the platform of Sinopec Yizheng Chemical Fiber Company Ltd. After more than eight months of intensive work, the Material Asset Reorganization and stock market listing were completed as scheduled. SSC assets were successfully transmitted into the listed company, which effectively helped Yizheng Chemical Fiber prevent itself from delisting. This showed the commitment of Sinopec Group to the capital market, its shareholders and the general public. It also enabled SSC to move on a fast track toward becoming a professional, market-oriented and international company.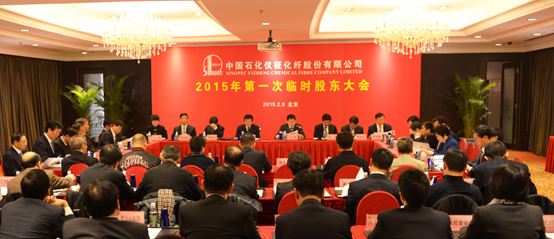 SSC's first extraordinary general meeting of shareholders was held.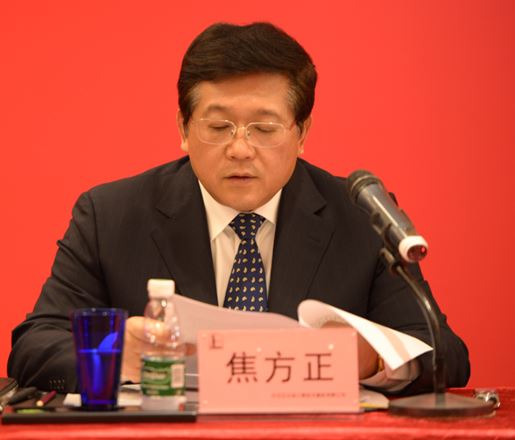 Chairman Jiao addressed the audience.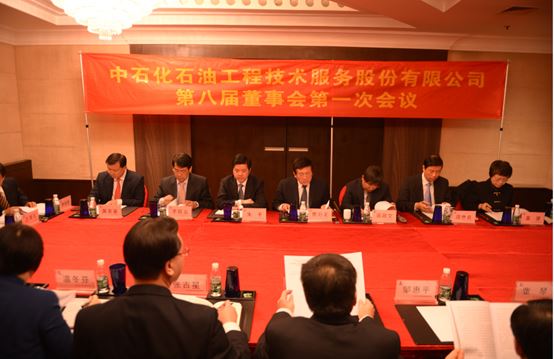 The first meeting of the eighth Board of Directors was held.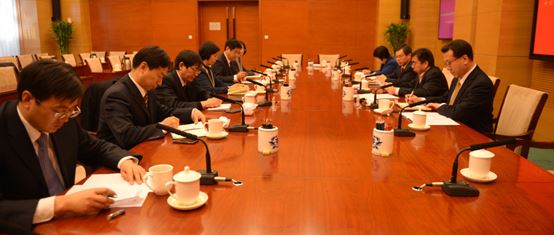 The first meeting of the eighth Board of Supervisors was held.